ANTIPODES BRAND ASSETS
You can download logo images and product images on this page. These are offered as one single large zip file below, or the same images are also available in 6 smaller zip files further below on this page.
Download All Images
BRAND NAME
We are Antipodes Audio Limited, we trade as 'Antipodes Audio', and within the audio industry we should be referred to as 'Antipodes'. The word antipodes is a four syllable plural word, an-tip-uh-deez, referring to two opposite things, like black and white are two antipodes (polar opposites). Australia and New Zealand were mainly colonised by the British and are about as far away from Britain as you can get, so the British sometimes refer to Australia and New Zealand collectively as 'the antipodes'. New Zealanders and Australians sometimes refer to themselves as antipodeans or living in the antipodes.
BRAND IMAGES
The Antipodes brand has two versions, an image logo and a name logo. The word logo is the one that should be used wherever possible. In some places only a small square space is offered (such as a website favicon) and in that case it is more appropriate to use the image logo. The logo zip file contains four alternative colours. There is a light mustard for use on dark backgrounds, a dark mustard for use on light backgrounds, a pure white version and a pure black version. The mustard versions should be used wherever possible, but there will be instances where you need something monochromatic. You can also combine the word logo and image logo in a single image as below. In this case place the image logo above the word logo, close together and sized to be the same width, and you may use a mix of the colours.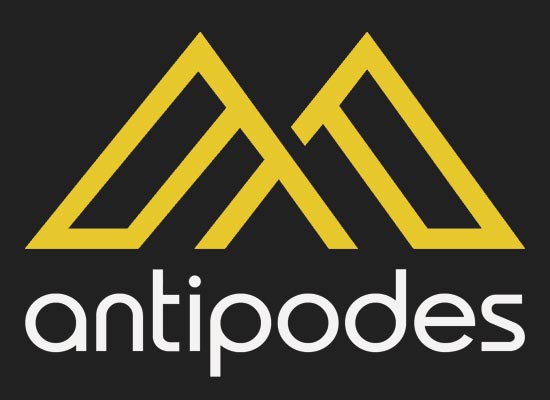 Download Logo Images
PRODUCT IMAGES
For each model below, there is a zip file containing a range of product images, in both silver and black finishes. These are sized and compressed for use on a website.
If you need a different version of any of these images, such as for high quality print, or to fit a different shape, please advise us of your specific requirements and we will endeavour to meet your requirements.
Download:
Oladra High Res Images
Oladra Images
K50 Images
K41 Images
K22 Images
K21 Images
---
ANTIPODES RMA PROCESS
An RMA for a repair will be issued when the customer, dealer or distributor has followed the Troubleshooting steps without resolving the issue, and then Antipodes has been able to log in remotely to test the unit or receive the results of checks that Antipodes has requested.
Use the link below for access to the RMA ticket system to request and to track a warranty repair/replacement, a charged upgrade or a charged repair.
Access the RMA Process
---
SHIP TO US
Please be sure to contact us for advice before shipping anything to Antipodes in New Zealand. This will allow us to make sure that your shipment is cleared at the New Zealand border without delay.
If this is not done then you may suffer significant delays, or your item may even be refused entry by NZ Customs and returned to you at your expense.